Last Updated on Wednesday, 26 September 2012 08:06
Warcraft Dota Premium Hero Strategy Guide - Premium Hero Strategy Guide
Harbinger
Obsidian Destroyer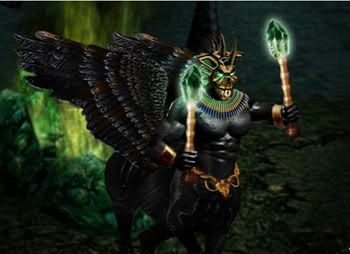 An obsidian construct reanimated through unspeakable necromantic rituals, the Destroyer was cursed to live the rest of its unholy days as a mockery of life, its face forever contorted in a twisted rendition of the ": P" smiley from MSN messenger. An empty vessel with no soul, devoid of all feeling save the pain of knowing a constant absence of unchapped lips, he devastates entire armies by his cunning wit and superior intelligence alone, imprisoning the fools in an endless chasm of their own minds, unspeakable tortures rendering their sanity and intellect unravelled at its fragile seams. And when it seems death has all but claimed them, the Destroyer unleashes a cataclysmic storm to devour what little of their insignificant souls remain.



Abilities





Arcane Orb

Deals bonus damage to an enemy based on 6/7/8/9% of your current mana pool. Additionally, deals 100/200/300/400 bonus damage to illusions or summoned units
100 mana cost per casting at all levels. 
6/4/2/0 cooldown
Bonus damage by orb is NOT reduced by armor OR magic resistance
Casting range is equal to your attack range (450)
This is an Orb, and as such doesn't stack with other orb effects (Sange) and buff placers (Skadi)
Effective animation canceling lets you "Orb Walk" (see FAQ at bottom of guide to understand Orb Walking)




Astral Imprisonment

Hides an ally OR enemy from the minimap, making them invulnerable. If cast on an enemy, 2/4/6/8 intelligence is deducted and added to your hero for 60 seconds. 
120/140/160/180 mana cost
18/16/14/12 cooldown
Good casting range (550)




Essence Aura

Your mana pool is increased by 75/150/225/300. Additionally, if you or an ally cast a spell, you have a 10/20/30/40 % chance of restoring 1/4th of your max mana
As of version 6.66, Arcane orb on autocast does not have a lower chance to trigger Essence Aura 
Certain spells, such as voodoo restoration and ball lightning, will not trigger the Aura
Certain items (Quelling Blade/TP scroll) DO trigger the Aura. 6.70 has shortened that list considerably though, so until I find out which ones still do, I'm not naming any.





Sanity's Eclipse (Aghanim's compatible)

Damages each enemy hero based on the difference between their intelligence and yours, multiplied by 8/9/10. If this value is less than 80/270/500, that hero loses 75% of its total mana instead. If any hero's intelligence is more than yours, nothing happens to them.
Damage improves with Aghanims, raising multiple to 9/10/11
175/250/325 mana cost
160 second cooldown at all levels
Good casting range (600/650/700). Improves with Aghanims to (700/750/800)
Excellent AoE (375/475/575)



Early game


Skills

Level 1: Astral Imprisonment (also called Banish)
Level 2: Orb/stats
Level 3: Orb
Level 4: Stats (or orb, if not already taken at 2)
Level 5: Orb
Level 6: Sanity's Eclipse
Level 7: Orb
Level 8: Aura/stats
Level 9: Aura/stats


Items




+


- - - - > OPTIONAL

+





OR save your gold for Core Items


Strategy

You've got good base damage and a great animation. Harass and deny when you can, but emphasize on farming. 

Always be solo. Obsidian is terrible when laning with other heroes. 

Level 1 Imprisonment is a must. While 1 second may not seem a lot, it's incredibly useful for dodging projectiles like storm bolt or magic missile. It's good to have for avoiding unnecessary death at early levels. See the replay at the bottom of the post for a good example of this at level 1. 


Mid Game


Skills

Level 10: Aura
Level 11: Sanity's Eclipse
Level 12: Aura/banish
Level 13: Banish (or Aura, if not already maxed)
Level 14: Banish
Level 15: Banish


Items (CORE)




OR


- - - - >



+





Strategy

See FAQ for logic behind inclusion of Force Staff in the item build. 

Your role in battles is very simple. Keep your distance from the heat from the battle and stick to focusing the lone targets that stand out. In most cases, these will be the enemy team's support heroes. If you performed well early game, you shouldn't have to use more than 3 hits to finish each hero off. 

If your Hex is still not complete, try to use Orb manually whenever you can so that Aura triggers more often to keep your damage output nice and high. 

If you have farmed well, your ultimate is devastating to entire lineups. The AoE is large enough to contain all 5 enemy heroes in most situations. Use your judgment for when it's best to use, but for the love of god, don't wait till the end of the battle to use it as a 'finishing move'. This isn't Mortal Kombat and you are not performing a bloody fatality.

Lastly, Banish should only be used when the situation calls for it. It doubles as a good disable for your enemies AND as an excellent means of saving your allies under heavy focus fire. To reiterate, good judgment needs to be exercised.


Late Game


Skills

Max Banish if you haven't already, take Ultimate at 16, finish off with stats.


Items










Strategy

As mentioned in my previous guide, the above items are meant to be potential options you choose from, not an excuse to go on an over-ambitious farmfest. You'll be ending the game with at least three of them though, so choose wisely. 

Your role remains identical to what I have stated previously, with a single addendum. You'll have more useable items now, so make sure you actually use them effectively.



Replays


Destroyer.w3g (795.9K)
Number of downloads: 3

A decent enough GPL game. I make a few mistakes in early battles (in my defense the Shaker was being retarded), which causes me to have a much later Hex. Still, there's decent enough gameplay that I think people could learn from. I recommend you slow down the replay during battles to see effective use of Force Staff and Banish to counter the armlet Nai'x.

Also, there's a nice demonstration at level 1 for why you should always take a level of Banish early.



FAQ/Dissection of Logic



Quote
What the hell is Orb Walking?


Orb walking is exactly what you think it means. Using Orb, while walking. You see, all toggleable Orb-related abilities in the game (Searing Arrows, Frost Arrows, Impetus) allow you to issue commands to your hero the instant after you have casted your Orb manually.

What that means is, you don't have to wait for the entire animation of the Orb flying, landing and damaging the opponent before you can start moving again. You can, quite literally, start walking immediately after the Orb is cast. 

With practice, you'll be able to eliminate any breaks/pauses in your movement almost entirely. In the replay I've provided, skip to 18:40 for an example of this. Were the morph not to replicate, he would've died, even though there was no stun or slow to keep him locked in place for my attacks.


Quote
Why not max Banish early game?


Unless you're facing a Windrunner or Tinker (in which case, GO NUTS), I wouldn't recommend it. Most carries you'll be up against are going to be the kind with low HP - a special class of heroes against whom Orb is a far greater mode of harassment (like Morphling) than your pitiful attempts to leech off their mana. See, the thing is, even those carries which are heavily reliant on their caster abilities (like Shadow Fiend) usually have a good source of mana regeneration to back them up, whether in the form of Brilliance Aura, or more simply, an early bottle, so your leech isn't going to hurt their farm as much as you think it would.

To make things worse, Banish almost demands you take Aura by necessity so you can spam it. And this means a delayed Orb, which results in an even more delayed mid-game presence. My skill build is a little flexible and allows you to take a fair amount of stats to boost your hp too, something Banish maxing simply does not let you do. So while you might think Banishing the enemy hero is giving you some sort of extra edge, but really, at the end of the day, all you're doing is just insulting your enemy's intelligence. 


Quote
I don't understand. Why force staff?


Destroyer has no health. As such, he is extremely fragile when it comes to being nuked, focus fired, and just generally taking abuse from the opposite team carries. One would think altering his item build to include Str treads, bracers and a point booster could potentially fix this, but they forget that those items come with a terrible, terrible price:

Your ultimate's damage output will suck. And that's such a shame because it's really quite a fantastic ultimate when Destroyer's stacked up with enough +Int. Hell, even in mid-game it can be more devastating than a perfectly placed Echoslam, and on the rare occasion your farm is spectacular enough, it'll instagib at least 2-3 people from the opposite team. The popularity of Tri-lane strats only serves to make it even stronger, what with 3 heroes being exceptionally low leveled and stat deprived, while the remaining 2 carries are usually of the Agility, non-high int growth variety (except Windrunner).

Your ultimate provides a HUGE advantage and that's why you see every single Destroyer going with an Int-heavy route in terms of items. Force staff provides a wonderful niche role of granting survivability, [b]AND fulfilling his +Int requirement. 


Quote
So how come you go force staff?


But I just...

FINE I'll summarize it. Destroyer's weak and fragile, but his ultimate needs lots of +Int to make it strong. He simply doesn't have the luxury to deviate from his standard item build too far without seriously compromising his ultimate's damage. There simply isn't enough time to farm soul boosters and daggers and BKB's while stacking mystic staffs to keep your ultimate strong. Force staff comes much cheaper, lets him survive when used effectively, and provides a much needed +Int boost for his ultimate. 


Quote
Seriously though, why force staff?


...Because fuck you.


Quote
By that logic, wouldn't Euls work just as well?


Actually no, and there's quite a few reasons for that. 

1) Eul's invulnerability time is about as situationally useful as Banish, except you're stuck with almost half the duration and half the number of possible targets you can cast it on. 
2) Cycloning yourself puts you out of commission from the battle. As a carry, you need to be constantly attacking and damaging people.
3) By keeping yourself in the air for about 2.5 seconds, you give the enemy heroes ample opportunity to come closer to you and have an easier time focusing you to death afterward. I'll cover the importance of 'positoning' in battles in some article or the like in the near future, so keep an eye out for that.

Oh and Euls costs more to make too.


Quote
I like to mass mystic staffs and I think you should too.


No. And here's why:

Mystic staffs are expensive and leave you with little health to do anything else. Even when I'm building my hex, I always get the ultimate Orb first. Now I know my item build isn't exactly screaming TANK, but the items I recommended all serve a greater, ulterior purpose each. Force staff aids in escapes, Hex provides a much needed disable, Orchid gives a nasty silence to counter those disablers (or fantastic damage amplification for those Tanky carries!), Shivas adds much needed armor against Carry focus fire, etc. I get those items for their secondary effects. The +Int is more of an icing on the cake. 


Congratulations Reader! 
You made it to the end of the guide

Regards, 
JustOrdinary
TrackBack URI for this entry
Subscribe to this comment's feed
Show/hide comments
Show/hide comment form